WATKINS GLEN STATE PARK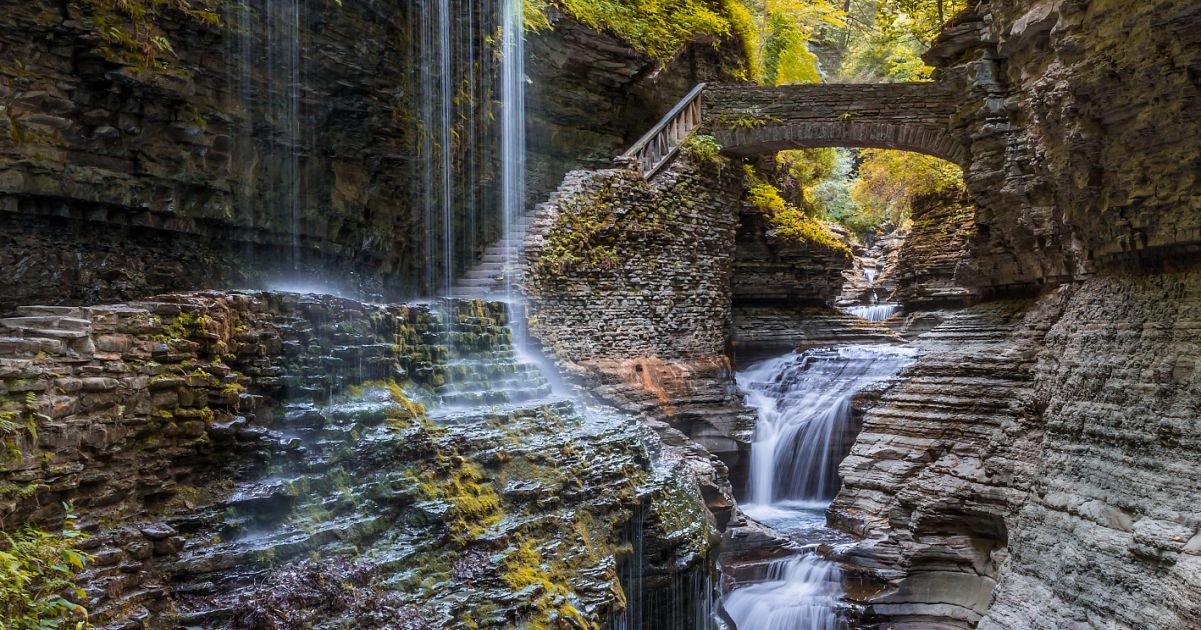 Tips 2021:

1)
Watkins Glen State Park
: Watkins Glen State Park ligt buiten het dorp Watkins Glen, ten zuiden van Seneca Lake. Watkins Glen State Park is de bekendste maar ook het meest geliefde State Park in de Finger Lakes regio.
De dagelijkse openingstijden kunnen variëren, de hoofdingang is tijdens het hoogseizoen open van 08.00 tot 20.00 uur en tijdens het voor- en naseizoen van 09.00 uur tot 17.30 uur. Voor de South Entrance en de Upper Entrance gelden andere openingstijden.
De toegangsprijs bedraagt $ 8.00 voor een auto met inzittenden. Als je voor het seizoen het park bezoekt hoef je helemaal niks te betalen. Bovendien is het hier heerlijk rustig als je buiten het hoogseizoen gaat. Hou er wel rekening mee dat buiten het hoogseizoen de Gorge Trail (mooiste wandel route) gesloten kan zijn vanwege ijsvorming. De rim trail is helaas niet zo mooi als de Gorge Trail.

2)
Trails
:
Het park beschikt over drie wandelpaden die open zijn vanaf half mei tot begin november waarmee men de kloof kan beklimmen of afdalen. De trails zijn met steen aangelegd en heeft vele trappen. De trails zijn gematigd en niet geschikt als je slecht ter been bent. Ook zijn w
andelschoenen aanbevolen want bepaalde gedeeltes van de trail zijn erg nat door de waterbronnen en de spray van de watervallen.

3) Shuttle bus: Er rijdt ook een park shuttle. Maar voordat je begint vraag een map van het park. Hierin staan de tijden van de bus shuttle service en informatie over

begeleide wandelingen

. De Watkins Glen Trolley rijdt alleen van 27 mei tot 24 juni in het weekend en daarna dagelijks. De trolley rijdt alleen in het weekend na Labor Day.
Tips 2021:

1)
Watkins Glen State Park
: Watkins Glen State Park is located outside the village of Watkins Glen, south of Seneca Lake. Watkins Glen State Park is the best known but also the most popular State Park in the Finger Lakes region.
The daily opening hours may vary, the main entrance is open during the high season from 08.00 to 20.00 and during the low season from 09.00 to 17.30. For the South Entrance and the Upper Entrance are different opening hours.
Admission is

$ 8.00

for a car and

passengers

.

If you visit

this park in the low season you do not have to pay anything.

Moreover,

when you go

out of season

it is

here very

nice and quiet. But keep in mind that outside the high season the Gorge Trail (most beautiful hiking trail) may be closed due to ice formation. The rim trail is unfortunately not as beautiful as the Gorge Trail.
2)
Trails
:
The park features three trails - open mid-May to early November by which one can climb or decend the gorge. The trails are built with stone and has many steps. The trails are moderate and not suitable if you have difficulty walking. Also,
s

ections are often very wet, either from the spray of the waterfalls or from springs, and hiking boots are recommended

.

3) Shuttle bus: There is also a park shuttle bus. Before starting out, pick up a map of the park and ask about the bus schedule, as well as information about guided hikes. The Watkins Glen Trolley runs weekends only from May 27 to June 24 and then runs daily after. The trolley runs weekends only after Labor Day.
Het stadje

Watkins

Glen

werd vernoemd naar

Dr.

Samuel

Watkins

,

die zich in 1828 hier vestigde.

De

Glen

werd

voor het publiek geopend

in 1863

,

nadat de

Britse

zakenman en

journalist

Morvalden

Ells

paden,

trappen en

bruggen hadden geplaatst.

In 1906

,

werd

de Glen

gekocht door

de staat

.

De

beste manier om de

Glen's

watervallen

te bekijken

is

bergop

te

wandelen

vanaf de hoofdingang

(

ook wel de

onderste

ingang)

,

over de

2,4

km

Gorge

Trail

,

naar de bovenste

ingang.

De route

heeft meer dan

830

stappen

en

stijgt

ongeveer

500

voet (

153

m)

. O

m terug te keren

naar de hoofdingang,

wandel

terug langs de

Gorge

Trail.

De Indian

Trail

aan de noordzijde

van

het dal

leidt naar de bovenste

ingang.

Er

zijn

19

watervallen in

de Glen

, variërend van

verticale

stromen

en

beperkt tot

smalle kronkelende

hellingen

, die

in een halve dag

kan

worden

bekeken.



The village Watkins Glen was named for Dr. Samuel Watkins, who settled in the area in 1828. The glen was opened to the public in 1863, after Britisch businessman and journalist Morvalden Ells installed trails, stairways and bridges. In 1906, the glen was purchased by the state. The best way to view the glen's waterfalls is to hike uphill from the main entrance (sometimes called the lower entrance), along the 1.5 mile (2.4 km) Gorge Trail, to the upper entrance. The trail has more than 830 steps and ascends roughly 500 feet (153 m ).

To return to the main entrance, hike back along the Gorge Trail. The Indian Trail on the north side of the glen leads to the upper entrance.

There are 19 waterfalls in the glen, ranging from vertical drops to twisting cascades confined to narrow chutes, all of which can be viewed in half a day.


Vanaf

de hoofdingang

bij de

parkeerplaats

,

loop

je richting het

westen

door een tunnel

naar de ingang

. Wanneer je de tunnel uit gaat sta je op de
Sentry brug
, 15.8 m boven Glen Creek. Aan je rechterkant is de Cascade ingang met een 12.5 m hoog draaiende waterval

en 1.8 m breed.

Starting from the main entrance parking lot, walk west to the entrance tunnel. When you exit the tunnel, you'll be standing on
Sentry Bridge
, 52 feet (15.8 m) above Glen Creek. To your right is Entrance Cascade, a 41 foot high (12.5 m) twisting cascade with a 6 foot wide (1.8 m) crest.
Je volgt de trail en op een korte afstand kun je de 6.4 hoge Minnehaha Falls bekijken. Ga verder op de Gorge trail en bekijk de

mooie omgeving

van een andere 7.3 m hoge

waterval

.

A short distance on, a side trail to the right descends to a viewing area for 21 foot high (6.4 m) Minnehaha Falls.

Continue along the Gorge Trail to a

viewing area

above the

waterfall's

24 foot wide (7.3 m ) crest.
Cavern
Cascade
ligt

er

voor dat 11.6 m tegen de richel en trapsgewijze naar beneden valt

in de pool eronder. Het pad loopt onder de
waterval
en vervolgens eindigd in de spiraal

Tunnel.



Cavern
Cascade
lies just ahead, falling vertically 38 feet (11.6 m) before striking a ledge and cascading into the pool below. The trail passes behind the falling waters of this overhung
waterfall
and enters the Spiral Tunnel.
Loop over de
Suspension Bridge
(26 m ) die
verbindt de
paden
boven de
rivier
.
Aan de andere
kant is een
nauwe vallei
dat staat bekend

als de

Vista

,

om zijn prachtige
uitzichten.
Pass under
Suspension Bridge
, which connects the rim trails a dizzying 85 feet (26 m) above the
creekbed
. On the other side is a
glen
fittingly known as the Vista, for its splendid views.
Deze
vallei
verbreedt

zich

in een

183 m

Kathedraal

,

met

60

m
hoge
rotswanden
die aan beiden zijden omhoog

stijgen.



This
glen
widens into the 600-foot-long (183 m) Cathedral, with 200-foot (60 m)
cliff walls
that soar up on both sides.
Aan de overkant van
Glen
Greek vindt je d
e
Glen of

Pools
een reeks
van prachtig
gebeeldhouwde
pools
en

kuilen van

29

m hoog die de

Rainbow Falls

heten.

Across Glen Greek, you'll find the
Glen of Pools
, a series of beautifully sculptured
pools
and potholes, and 95-foot-high (29 m) Rainbow Falls

.
Watkins Glen
State Park
is het mooiste park in deze omgeving en zeker een must om het te bezoeken.



Watkins

Glen
State Park
is the

best

park

in the area

and

definitely a must

to visit

.
Op de borden kun je lezen welke vissen en insecten hier voornamelijk voor komen.



On the signs

you can read

which

fish and insects

are living in this area.
Je hebt verschillende
keuzes over
hoe verder te gaan of te eindigen met de wandeling
.
De
Gorge
Trail
loopt naar

het westen door

de

Elfin

Gorge

en eindigt uiteindelijk

op de

bovenste

parkeerplaats waar ook een ingang is.



You have several choices about how to continue (or finish) your hike. The
Gorge Trail
carries on west through the Elfin Gorge and eventually ends in the upper entrance parking lot.

@MK