ACADIA NATIONAL PARK


BEZIENSWAARDIGHEDEN / HIGHLIGHTS


Bezienswaardigheden / tips in Acadia National Park 2021:

1)
Acadia National Park
: Acadia National Park is het enige nationale park in New England. Het park werd in 1919 opgericht op het land van D. Rockefeller en doneerde het land aan de nationale parken systeem om het stuk land te redden van houtkap. Het park ligt op Mount Desert Island en bestaat in zijn geheel uit ca. 300 km2 aan ruige granieten rotsen, groene bossen en baaien.

Bij een bezoek aan Acadia National Park moet je tussen 1 mei en 31 oktober entreegeld betalen

, het maakt niet uit waar je het park in rijdt. De toegangsprijs is $ 30,00 per

auto, $ 25,00 per motor en $ 15,00 per persoon zonder voertuig (7 dagen geldig).

2)
Park Loop Road
: De Park Loop Road is de belangrijkste weg door het park en brengt je naar de verschillende bezienswaardigheden van Acadia. De weg is 43 km lang en begint bij het bezoekerscentrum van Hulls Cove (nabij Route 3 aan de noordkant van het eiland) en verbindt de meren, bergen, bossen en rotskust in het park.

3)
Sand Beach
: Als je zin hebt in een verkwikkende duik of gewoon wilt wandelen over het langste strand van Acadia, stop dan bij Sand Beach. Sand Beach ligt in een kleine inham tussen de granieten bergen en rotsachtige kusten. Er loopt een heel mooi wandelpad langs de oceaan dit pad gaat omhoog en is toegankelijk vanaf de parkeerplaats. Dit wandelpad loopt langs de kust en loopt langs Thunder Hole en eindigt bij Otter Cliff.

4)
Thunder Hole
: Ongeveer 1,5 km voorbij Sand Beach kom je bij Thunder Hole, waar wilde golven vanuit de Atlantische oceaan met heel veel kracht een diepe nauwe kloof in worden geblazen en dit gaat gepaard met een donderende dreun. Het donderend geluid is het luidst tijdens inkomende getijden. Dit is een prachtige plek om de meest bijzonderdste natuurgeweld binnen Acadia te bekijken.

5)
Otter Cliff
: Richting het zuiden ligt Otter Cliff, het ligt slechts 11 km vanaf Thunder Hole naast de Park Loop Road en is een favotiete plek om berg te beklimmen. De rotsen rijzen verticaal op uit zee. Het is een van de meest spectaculaire bezienswaardigheden langs de kust en het is 110 meter hoog. Bij een bezoek aan Otter Cliff is het belangrijk dat je voorzichtig bent. De rotsen zijn vaak nat of glad.

6)
Jordan Pond
: Bij Jordan Pond lopen twee natuurpaden, de 1,5 km lange trail loopt langs de zuidkant van de vijver en de 5,5 km lange trail loopt langs de hele omtrek van de vijver. Tip: Nadat je de trail hebt gelopen en eetlust hebt opgedaan beloon jezelf met een ontspannende afternoon tea op het gazon van de
Jordan Pond House
. Tegen het einde van de Park Loop Road leidt een zijweg omhoog naar Cadillac Mountain.

7)
Cadillac Mountain
: Het hoogtepunt van Acadia National Park is Cadillac Mountain (466 m), de hoogste kusttop in het oosten van de VS, bereikbaar via een 5,6 km lange oprit van Park Loop Road. Vanuit vier richtingen lopen vier verschillende trails. De panorama uitzicht van 360 graden over de oceaan, eilanden en bergen is prachtig, maar het is echt magisch om de zonsopgang boven de Frenchman baai
in de vroege ochtend
te bekijken.
8) Beste reistijd: De maanden juli en augustus zijn de beste maanden voor het weer en om walvissen te spotten vanaf Acadia National Park.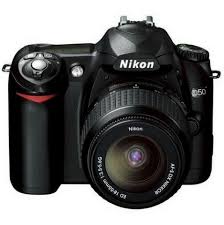 Highlights / tips in Acadia National Park 2021:

1)
Acadia National Park
: Acadia National Park is the only national park in New England. The park was established in 1919 on land that John D Rockefeller donated to the national parks system to save from encroaching lumber interests. The park is located on Mount Desert Island and consists almost entirely of approximately 300 km2 of rugged granite cliffs, green forests and bays. Visiting Acadia National Park requires payment of an entrance fee between May 1 and October 31, no matter how you enter or where you go into the park. The entrance fee is $ 30.00 per vehicle, $ 25.00 per motor and $15.00 per person without a vehicle (7 days valid).

2)
Park Loop Road

: The Park Loop Road is the main sightseeing jaunt through the park and takes you to several of Acadia's highlights. This 27 mile (43 km) road begins at the Hulls Cove Visitor Center (near Route 3 on the northern side of the island) and connects the Park's lakes, mountains, forests, and rocky coast.

3)

Sand Beach

: If you're up for a bracing swim or just want to stroll Acadia's longest beach, stop at Sand Beach
. Sand Beach is nestled in a small inlet between the granite mountains and rocky shores. There is a very nice oceanside trail, accessed from the upper parking lot, that follows the shore's edge past Thunder Hole and arrives at Otter Cliff.

4)
Thunder Hole
: About a mile beyond Sand Beach you'll come to Thunder Hole, where wild Atlantic waves crash into a deep narrow chasm with such force that it creates a thundering boom, loudest during incoming tides. This is a beautiful spot to view some of the most striking features within Acadia.

5)
Otter Cliff

: Look to the south to see Otter Cliff, it is just 7 miles after Thunder Hole next to the Park Loop Road and a favorite rock-climbing spot that rises vertically from the sea. It has one of the most spectacular sights along the coast and it is 110 feet high. When visiting Otter Cliff, it is essential that you use the utmost caution. Rocks are often wet and slippery.

6)

Jordan Pond

: At Jordan Pond choose from a 1 mile nature trail loop around the south side of the pond or a 3.5 mile trail that skirts the entire pond perimeter. Tip: After you've worked up an appetite, reward yourself with a relaxing afternoon tea on the lawn of

Jordan Pond House

. Near the end of Park Loop Road a side road leads up to Cadillac Mountain.

7)

Cadillac Mountain

: The majestic centerpiece of Acadia National Park is Cadillac Mountain (1530ft), the highest coastal peak in the eastern US, reached by a 3.5 mile spur road off Park Loop Road. Four trails lead to the summit from four directions. The panoramic 360-degree view of ocean, islands and mountains is a winner any time of the day, but it's truly magical at dawn when hardy souls flock to the top to watch the sun rise over Frenchman Bay.


8) Best time to travel: The months of July and August are the best months for the weather and for whale watching from Acadia National Park.


Acadia National Park is een nationaal park in de staat Maine. Het beschermt een groot gedeelte van Mount Desert Island en een aantal kleinere eilanden voor de Atlantische kust. Het gebied bestaat voornamelijk uit bergen, kustlijn, bossen en meren. Bij het visitor center kun je een plattegrond (map) halen van de omgeving. Je kunt ook om informatie vragen aan de rangers. De rangers zijn van alles op de hoogte en kunnen je alles vertellen over Arcadia National Park.
Acadia National Park is a national park in the state of Maine. It protects a large part of Mount Desert Island and several smaller islands off the Atlantic coast. The area consists mainly of mountains, coastline, forests and lakes. You can get a map of the area at the Visitor center. You can also request information from the rangers. The rangers are all well informed and can tell you all about Arcadia National Park.


De hoofdattractie is Loop Road, een route van 43 km over de roze granieten bergen van de oostkust, langs de belangrijkste bezienswaardigheden, waaronder de 465 m hoge Cadillac Mountain, het hoogste punt aan de Atlantische kust.
The main attraction is Loop Road, a route of 27 miles on the pink granite mountains of the east coast, along the main sights, including the 465 meter high Cadillac Mountain, the highest point on the Atlantic coast.


Er zijn wandelpaden en een voor auto's begaanbare weg naar de spectaculaire panorama's vanaf de top.
There are hiking trails and an accessible road for cars to the spectacular views from the top.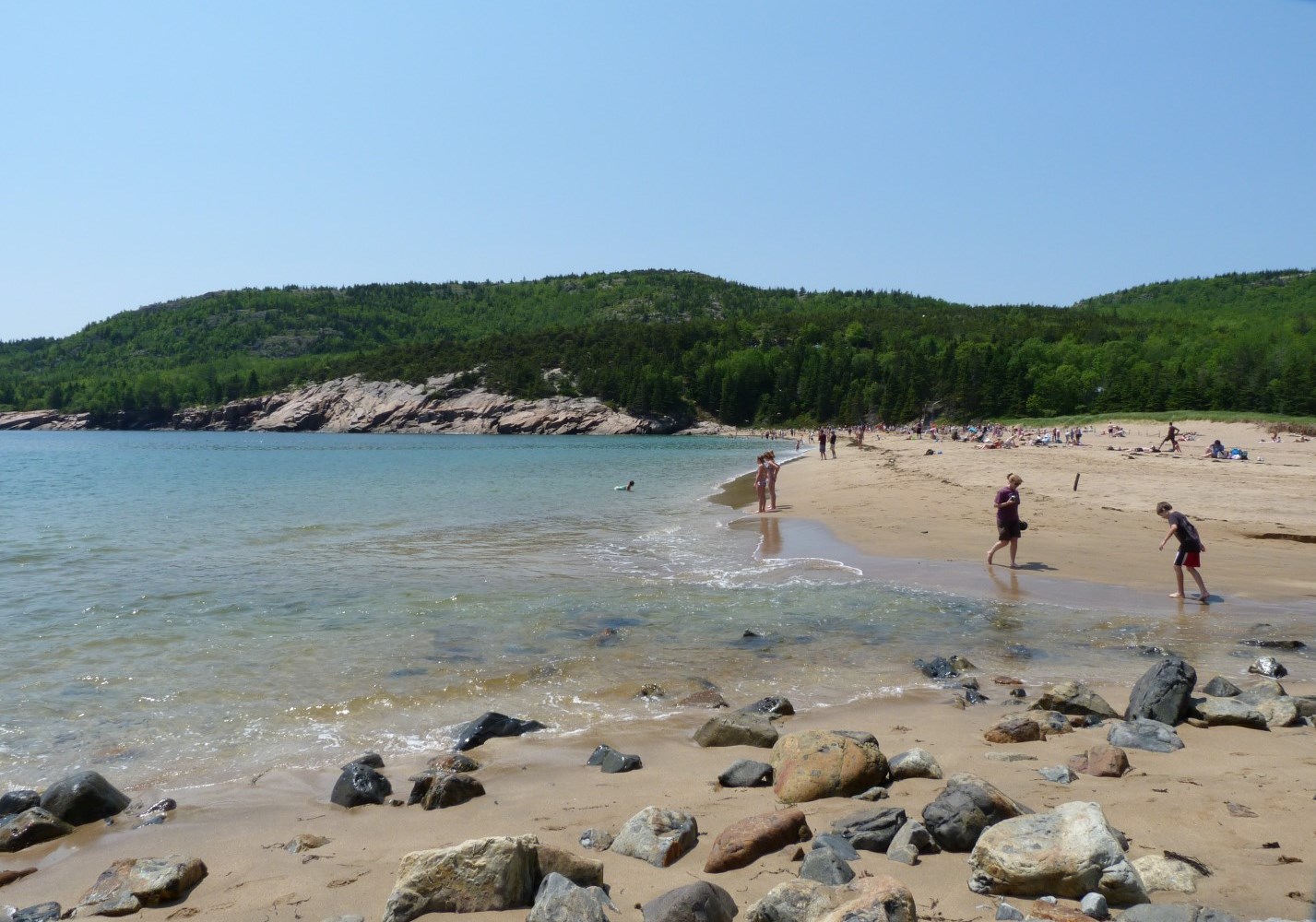 De weg voert verder naar het idyllische Sand Beach maar het koude water schrikt de meeste zwemmers af.
The road leads on to the idyllic Sand Beach, but the cold water shaken off most of the swimmers.


Sand Beach is een prachtig klein strand, genesteld tussen de bergen en rotsachtige kusten aan de oostkant van Mount Desert Island in Acadia National Park.
Sand Beach is a gorgeous little beach nestled between mountains and rocky shores on the east side of Mount Desert Island in Acadia National Park.


Rond Great Head begint een populaire wandelroute. Als je naar het einde van Sand Beach loopt zie je een granieten trap aan de voet van de kliffen.
There is a popular hiking trail that begins here then loops around Great Head. If you walk to the end of Sand Beach you will see granite steps at the base of the Cliffs.
Aan het einde van het pad (ongeveer 3 km lang) begint een nieuw pad dat langs de oceaan loopt. Hier hebben we de top bereikt.

At the far end is the beginning of a beautiful Ocean Path that meanders along the coast approximately 2 miles all the way. We've reached the top.




Thunder Hole is de plek in Acadia waar je de golfen tegen de rotsen ziet slaan. Op rustige dagen kun je je afvragen waar de ophef allemaal over gaat. Maar wacht maar tot de golven tegen de inkepingen van de rotsen slaan. zee ervaring tegen de rotsachtige kust van Maine! Op rustige dagen kunt u zich afvragen wat de ophef allemaal over gaat. Maar wachten tot de golven schop een paar .
Thunder Hole is the place in Acadia to experience the thunder of the sea against the rocky shores of Maine! On calm days you may wonder what the fuss is all about. But wait until the waves kick up a few notches.ervaring tegen de rotsachtige kust van Maine! Op rustige dagen kunt u zich afvragen wat de ophef allemaal over gaat. Maar wachten tot de golven schop een paar .


Thunder Hole is een kleine inham die natuurlijk uitgehouwen is uit rotsen waar de golven in rollen. Aan het einde van deze inham is een kleine grot. Wanneer de golf komt wordt het water met een klap tegen de rotsen geduwd. De kracht van het water kan tot 40 meter hoog uitlopen met een donderend geraas! Vandaar de naam: Thunder Hole. Hole
Thunder Hole is a small inlet, naturally carved out of the rocks, where the waves roll into. At the end of this inlet, down low, is a small cavern where, when the rush of the wave arrives, air and water is forced out like a clap of distant thunder. Water may spout as high as 40 feet with a thunderous roar! Hence the name: Thunder Hole.
ole

Otter Cliff is één van de meest spectaculaire bezienswaardigheden langs de Noord-Atlantische kust. Aan de oostkant van het Park (Loop Road ongeveer 1,1 km voorbij Thunder Hole) is de beroemde 110 meter hoge Otter cliff. Er zijn verschillende uitkijkpunten langs de oceaan van waaruit je een prachtig uitzicht hebt.
Otter Cliff, is one of the most spectacular sights along the North Atlantic Seaboard. On the east side of the Park Loop Road, about .7 miles past Thunder Hole, is the famous 110 foot high Otter Cliff. There are several vantage points along the Ocean Path from which you may partake in this visual feast in all its splendor.


De omgeving is niet alleen prachtig maar het is er ook heerlijk rustig.

The area is not only beautiful but it is also very quiet.


Wees uiterst voorzichtig in de buurt van de kliffen. De rotsen kunnen glad zijn en kleine stukjes zand en rots deeltjes kunnen fungeren als knikkers waardoor je kunt uitglijden en vallen.
Use utmost caution when near the cliffs. The rocks may be slippery and little bits of sand and rock particles can act like marbles causing you to slip and fall.


Uitzicht op Otter Cove.

View of Otter Cove.




Dit is Jordan Pond. Het water is zo helder waar je de prachtige graniet en gladde stenen vloer kunt zien. Het is een reservoir dus er mag niet gezwommen worden!
This is Jordan Pond. The water is so clear allowing you to see the beautiful granite and smooth rock floor, but it is a reservoir so there is no swimming allowed!




Het water is er zo helder dat je de vissen en kikkers ziet zwemmen.

The water is so clear you can see the fish and frogs swimming.


@MK